I feel I ought to disclose this upfront…. I'm originally from Blaenau Ffestiniog so am highly biased BUT it's an amazing place to visit! Here's 7 reasons to love Blaenau Ffestiniog.
1) All.The.Slate
Being a historic mining town, slate from Blaenau Ffestiniog once roofed the world. The slate mines might be gone but their mark is still there. Slate slag heaps surround the town and honestly, it is beautiful. I always feel at peace when I'm surrounded by slate. And as of 28th July 2021 it is officially a UNESCO World Heritage Site – the 4th one in Wales!
2) Ffestiniog Railway
Blaenau Ffestiniog is the end of the line for the Ffestiniog Railway (and it passes by my childhood home on the way). So if you love steam trains then hop on board railway at the station or just sit and watch the trains roll by. (Take a peek at my previous post for more info about my love of the line).
3) Moelwyns
The two beautiful Moelwyn mountains (Moelwyn Mawr & Moelwyn Bach) are an icon of Blaenau Ffestiniog. Plenty of walking trails including visiting Stwlan Dam and Cwmorthin. The views from up there are pretty spectacular.
4) River of Slate
This is a new addition to Blaenau Ffestiniog's streets but there's a river of slate at Diphwys Square. Made by the artist Howard Bowcott the river is made of 350 slate pieces, each one from a different slate mine in Wales. Each one has the quarry's name engraved on it. It's a marvel and well worth seeing.
5) Llechwedd Slate Caverns
Once a busy slate mine but now a tourist attraction, Llechwedd Slate Caverns is the home of the Deep Mine and Quarry Explorer tours. The Deep Mine tour will take you underground to see how the miners worked. The lake there is beautiful! The Quarry Explorer tour takes you around the modern day slate mine where you can take in the views of the town and if weather conditions are good, you can see towards Trawsfynydd and Porthmadog.
6) Mountain Biking Tracks
There are some amazing mountain biking tracks around the slate heaps of Blaenau which are run by Antur Stiniog. In fact there are currently seven tracks and Antur Stiniog also offer bike hire and an uplift service from their Llechwedd base.
7) Zipworld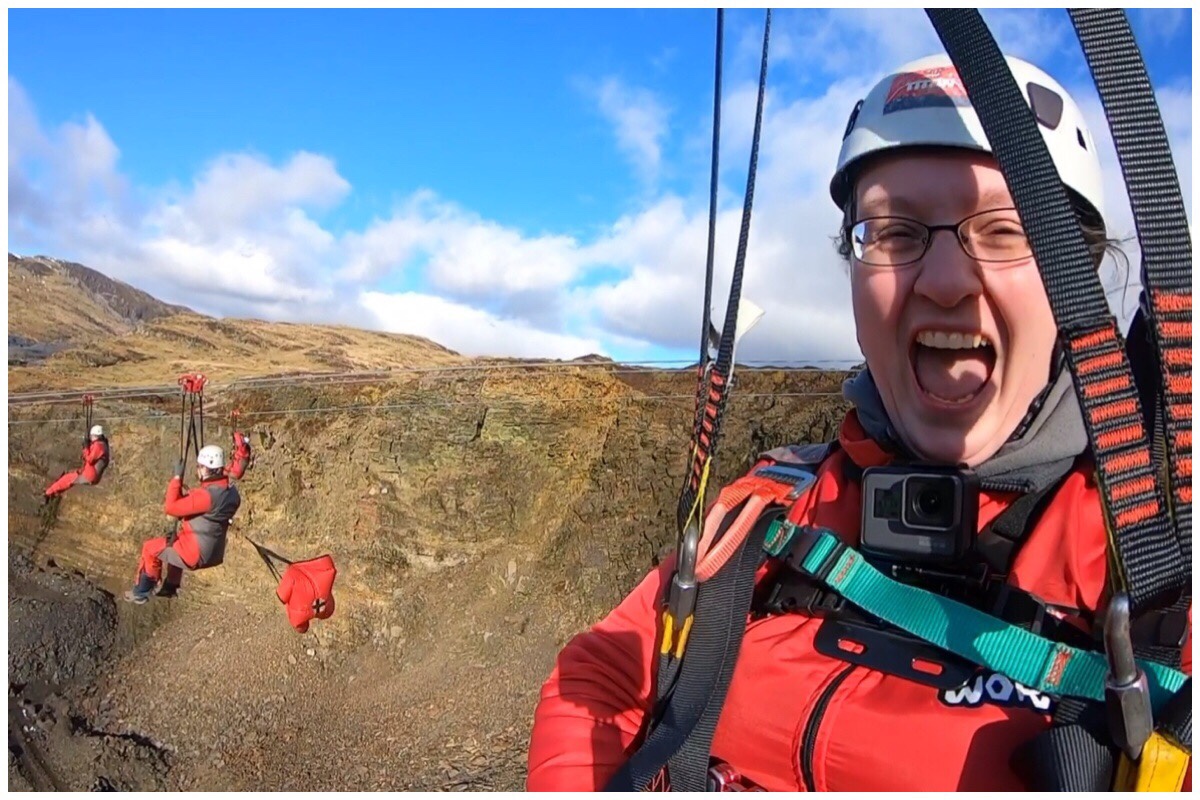 Zipworld have three fantastic activities at Llechwedd Slate Caverns (click on the links to see my videos).
Zipworld Titan – three ziplines make up the largest zipzone in Europe.
Bounce Below – underground trampolines in the old slate caverns… hard hats required!
Slate Caverns – an amazing underground adventure which sees you ziplining and climbing through various caverns.
What do you love about Blaenau Ffestiniog?