It's a year since an impromptu trip to Blackpool. The girls had never been and we were on the way home from the Lake District so why not! Discussing this with a friend who thinks I'm actually mental for liking Blackpool but let me run through the reasons why I love Blackpool.
Quintessential British Seaside Trip
I don't think there's anything more typical British than a seaside holiday and I think Blackpool is the optimum. It has it all… the piers, the promenade, the chip shops, the rock candy, the donkeys… what more could you want? On top of that, you have Blackpool Tower, the Illuminations and Pleasure Beach!
Childhood Memories
It's a big nostalgia hit for me. I have childhood memories of visiting Blackpool. There's photos in a family photo album of me and Dad at Pleasure Beach. Although I don't really remember the day the feeling I get when I look at the photo is a warm fuzzy feeling.
There's also the memory of that Illuminations visit with my cousins (the "Chesters"). My littlest cousin was a baby and I remember my Dad telling my Aunt that under no circumstances was she to spill the milk in the car as it would stink for months… yes she spilt the milk just as we left Chester for Blackpool!
Then this other time, my Nain decided to book us all into Blackpool Pontins – Dad, her and I and the Chesters. I don't remember much about the trip specifics but I do remember going. There's a great photo of me and the Chesters with Blackpool Tower in the background. (As an aside, that Pontins camp has now long gone.)
Dad & Illuminations Video
As a child I had a Blackpool Illuminations video (yes video tape! I am that old!). I used to love watching it. It showed all the lights along the front including the tram lit up as a train. At the very end of the video there was a POV film of The Big One (previously known as Pepsi Max Big One) rollercoaster. Whenever I reached this point of the video I'd shout at Dad who would place me on his knees and would pretend we were on the coaster! The stuff core memories are made of.
Tower with Taid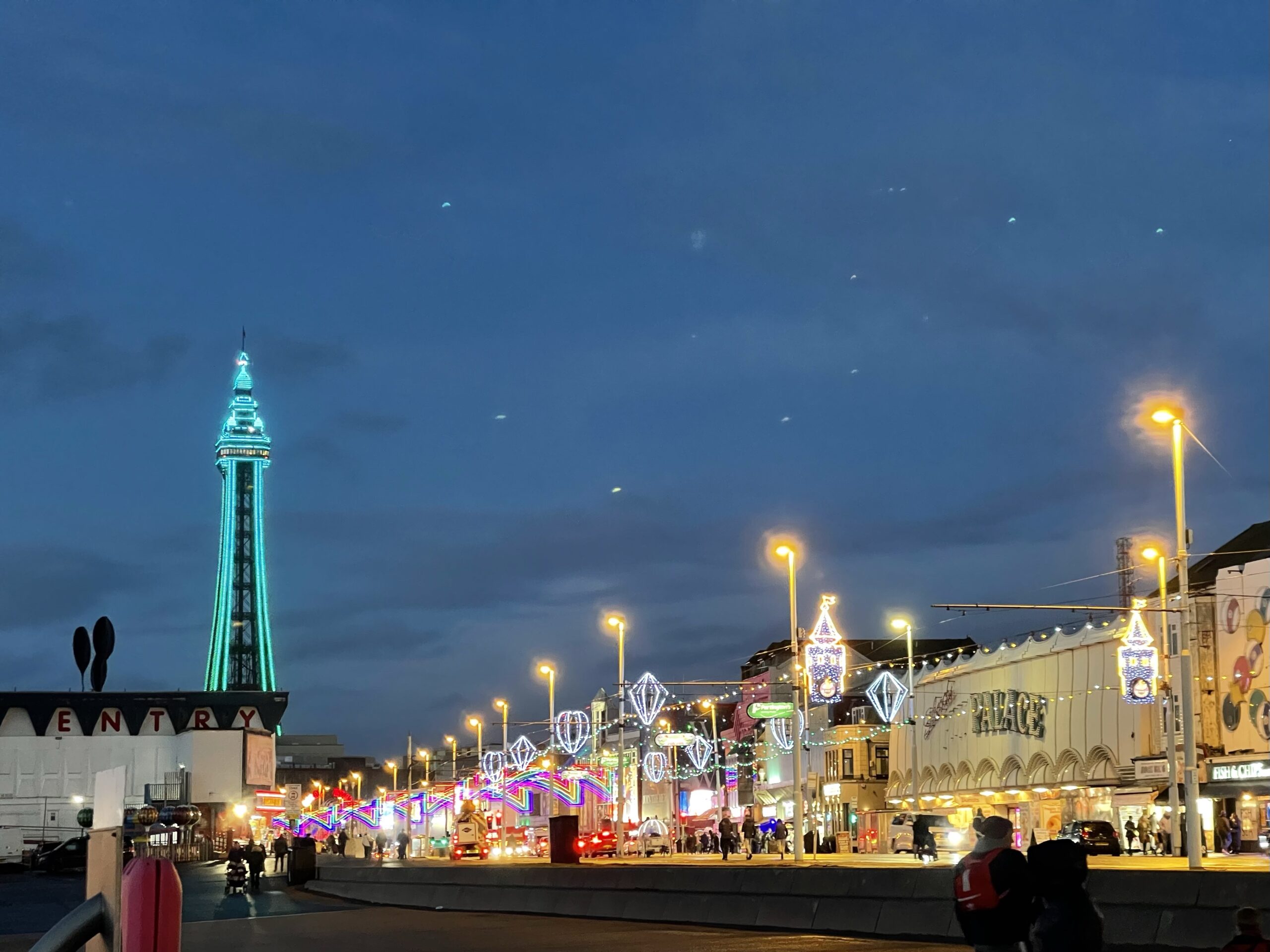 I once took a trip with Taid to Blackpool for a weekend. And during that trip we went to the Tower and had a great day. We spent time at the Ballroom watching the infamous Wurlitzer in action, went up to the top of the Tower and went to see Mooki at the Tower Circus.
(We took the girls to the top of the Tower and to the Tower Circus – wowzers I don't remember it being that expensive! And now you have to pay to get into the Ballroom – I blame Strictly Come Dancing!)