(For disclosure purposes, I've worked with both Ffestiniog Railway and Zipworld mentioned in this post within the past year)
Over the past few months I've been confined to my homestead and whilst I'm not complaining (this is nothing compared to what frontline staff are going through!) I am longing to go for a day out somewhere! So to save my sanity, I'm planning my perfect post lockdown day out that will hit all of my needs.
Rheilffordd Ffestiniog Railway
Of course my perfect post lockdown day out includes a steam train… and naturally it HAS to be Rheilffordd Ffestiniog Railway. I could either take the Welsh Highland line from Caernarfon to Porthmadog before hopping trains and take the train up to my hometown of Blaenau Ffestiniog. Likelihood is that I'll be doing the train to Blaenau Ffestiniog…
"rwy'n mynd nol i Flaenau Ffestiniog,
canys yno mae fy seithfed nef," – Tebot Piws.
(The railway remains closed until 20th July. Re-opening trains from Porthmadog to Tan y Bwlch will resume on that day however there's no word on trains to Blaenau Ffestiniog as of yet. If you do want to travel on the Tan y Bwlch specials then you need to book online ASAP!)
Blaenau Ffestiniog
I'm undecided if I'm going to hop off at Tanygrisiau or at the end of the line in Blaenau. My perfect post lockdown day out has to include a visit to my Nain's who I haven't seen for months. If we hop off at Blaenau then I can walk to Nain's and have a picnic in the garden with her – assuming that the weather will be kind. I can also walk to Dad's house and see him as I haven't seen him in months either. Could have a panad in his garden as well.
ZipWorld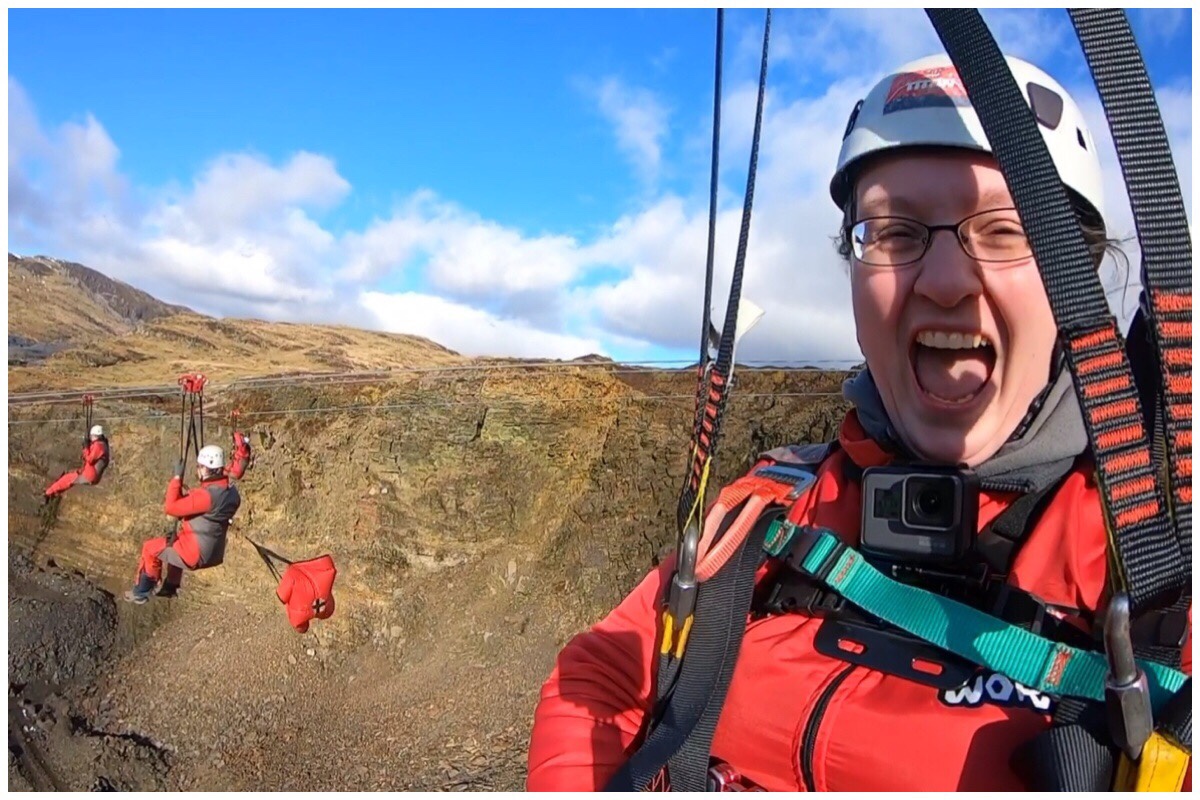 Whilst I'm in Blaenau Ffestiniog, I could leave the girls with their Nain and nip up to Zip World to go on Zip World Titan. It's the largest zip zone in Europe. Views of the Blaenau Ffestiniog slate landscape are just stunning! Alternatively I could go the whole hog – Titan, Slate Caverns and Bounce Below. I've done them all but definitely want to go do them again. In fact I have vouchers that are busy burning a hole in my pocket.
(ZipWorld have now reopened with social distancing measures in place. It is advisable to book adventures in advance via their online booking system).
Llechwedd Slate Caverns
Seeing as ZipWorld is based in Llechwedd Slate Caverns it would be rude not to take in the sights at Llechwedd. In fact, I would absolutely love to take the husband and the girls on the Deep Mine Tour. I haven't been on the tour since I was a teenager and it's been revamped since (well it has been 20 years!). It is well worth a visit just to see the beautiful underground lake.
Chinese Takeaway
To finish the day off, a takeaway from Golden Mountain – the local Chinese in Blaenau is a must! I'd pickup a portion of 8c (crispy chicken covered in curry sauce with fried rice and chips…. ohhhh yum!), chop suey roll and some sweet and sour chicken balls. I would share my feast with my Mam back at my childhood home.
And that's it, my perfect post lockdown day in Blaenau Ffestiniog! Are you out of lockdown now? What was your first day out like?