Here in North Wales we have so many great beaches! Given my fondness for trains here's a list of beaches you can reach by rail! In this post I specifically discuss ones you can visit along the North Wales Coast.
North Wales Coast
Whilst the North Wales Coast railway literally travels along the North Wales coastline, it's surprising how many beaches you CAN'T get to. For example, Talacre Beach is quite a well known beach and despite the railway passing through the village there isn't a station there!
Anywho! Here's a list of beaches you CAN access via a train trip.
Prestatyn
The beach is approx 1/2 a mile walk from the railway station. Depending on the tide, there's a fair amount of sandy beach to play on. When the tide is in, the sea comes right up to the promenade.
Rhyl
Rhyl beach and promenade is less than 1/2 a mile from the station. Lovely sandy beach that stretches for miles! Also if you like some fairground and amusements then Rhyl has plenty to offer.
Abergele
The beach is literally over the road from the station. If I remember correctly it's rather pebbly beach but there are areas of sand to be found. Along the promenade you can find various amenities such as playground, crazy golf, cafe and giftshop. And if fitness if your thing, there's also an outdoor gym area.
Colwyn Bay
Colwyn Bay beach is a short walk from the station (say around 150m). There's been quite a bit of work done at Colwyn Bay in recent years with the main one being carrying lots and lots of sand down to the coastline to transform the pebble beach into a sandy beach. If you feel a bit peckish then you can find some fancypants food at Bryn Williams Porth Eirias Michelin star restaurant
Penmaenmawr

The beach is approx 180m walk from the station. Really easy to get to – you will need to walk through an underpass which takes you under both the railway and the A55 to get to the promenade. Once you reach the promenade you will find a paddling pool (currently out of action!), a park and a cafe. The beach itself is a mix of pebbles and sand.
Llanfairfechan
440m walk from the station you will find Llanfairfechan beach and promenade. Similar to Penmaenmawr the beach is a mix of sand and pebbles. On your way down you will also pass a park, paddling pool and a boating lake. At the promenade there's a lovely cafe.
Rhosneigr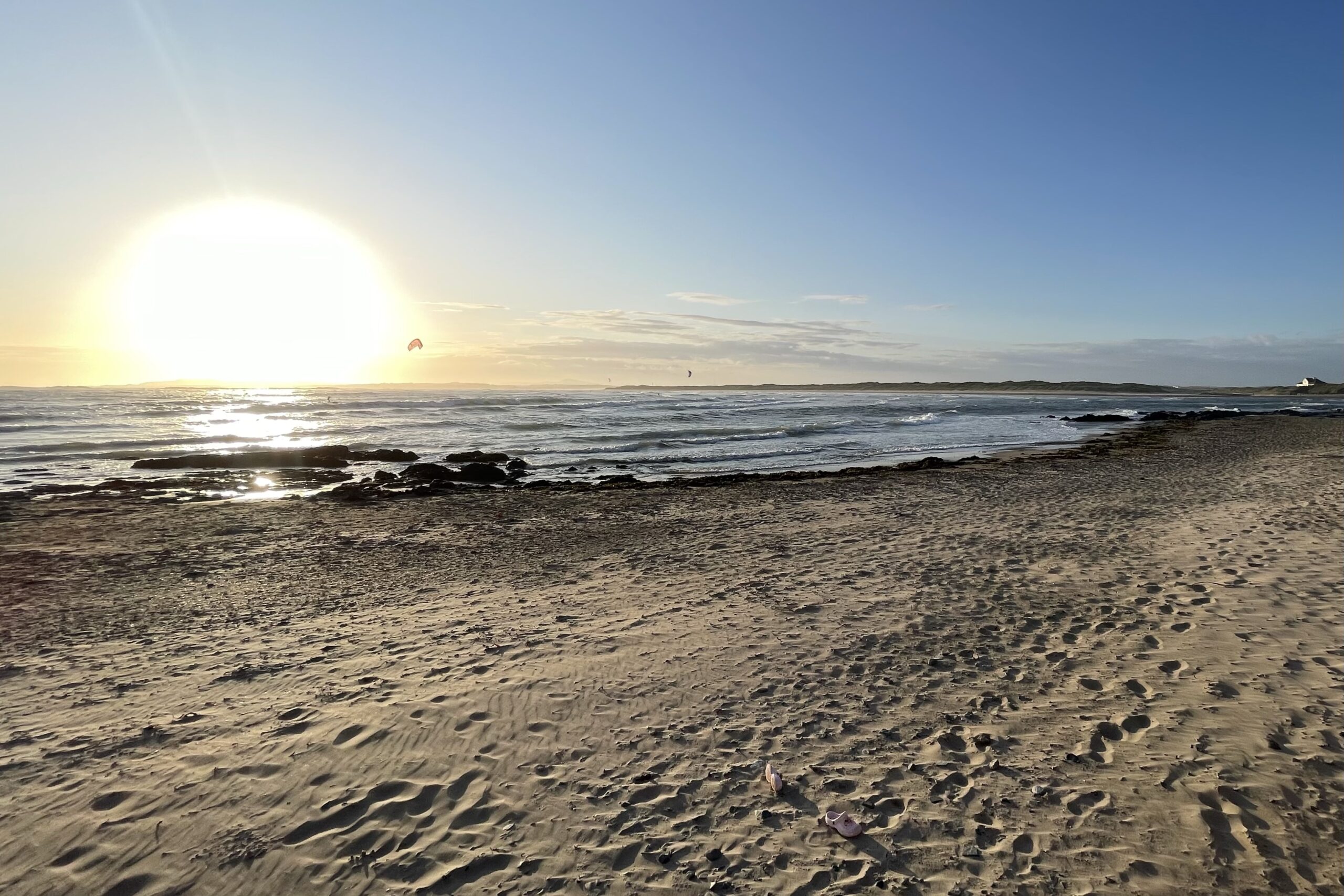 There are two beaches you can access at Rhosneigr. Traeth Crigyll which is approx 1.2km walk from the train. There's also Traeth Llydan which is approx 2km walk from the station. Both are sandy beaches with lots of black rocks. The evening I visited there were people having picnic, children playing and even someone paragliding. It was quite windy and I saw a fair few surfers heading back to the car so it looks like a good place for some surfing as well.
Honourable Mention – Llandudno
As this station is not technically on the North Wales Coast line but it is accessible via a short detour There are two beaches in Llandudno – West Shore and North Shore. Each are accessible via a train from Llandudno Junction and then a small-ish walk.
Llandudno West Shore (approx 1mile from the station) is a beautiful sandy beach with views of the Carneddau and Ynys Môn (Anglesey). Close by is a park, a cafe serving locally made ice cream and on certain Saturdays of the year, there's also a miniature railway ride!
Llandudno North Shore (approx 1/2 mile from the station) is a pebbly beach but has a nice long promenade. At one end is a paddling pool, park, cafe and toilets and at the other end is a pier with amusements and rides. And more rock than you could shake a stick at!
Which North Wales beach will you visit this Summer?