When your Dad asks if you're up for a walk… consider carefully how far you're about to walk! Ha! No in all seriousness this was a great day! The walk from Tanygrisiau to Oakeley Arms is full of amazing views and there's a promise of a pizza and a pint at the end…. what's not to love?
---
Key Details
Staring Point: Tanygrisiau Station (alternatively at the layby lower down)
End Point: Oakeley Arms, Maentwrog
Bus Route Back to Start Point: Any bus to Blaenau Ffestiniog and then a walk down to Tanygrisiau
Walk Length: approx 4 miles from Tanygrisiau to Oakeley Arms
Walk Duration: 1.5 – 2 hours nonstop (although we took way longer due to some trainspotting)
---
Now let's jump in shall we?
Tanygrisiau Power Station and Archer's Dam
We started walking from Tanygrisiau Station and walked along on the path behind the hydro electric power station towards Archer's Dam. By pure coincidence (!) we happened upon not one but two Ffestiniog Railway trains at Archer's Dam.
Old Ffestiniog Railway Tunnel and Trackbed
Moving on we found the South portal of the old Moelwyn Tunnel. I tried to get as close as possible but it's a very boggy swamp now and in order to actually get to the tunnel's mouth then you'd need waterproofs.
From there we walked along the old trackbed before rejoining the footpath to get to Dduallt. And of course here we saw another train – actually it was the morning Mountain Spirit on its way back down to Porthmadog.
Plas Y Dduallt
After a brief pitstop at Dduallt, we walked on and passed by Plas Y Dduallt (an absolute beaut of a house and once featured on Britain's Most Haunted programme). The house was bought by Colonol Andrew Campbell in 1962 and due to it's remoteness was only accessible via the then disused Ffestiniog Railway. Col Campbell ran his own private engine from Tan Y Bwlch to Plas Y Dduallt where he had a private siding and platform. Remains of the platform are still there so next time you pass on the railway keep an eye out for "Campbell's Platform". Incidentally during the rebuild of the Ffestiniog Railway in the 1960s he allowed the volunteers to stay in the farm buildings whilst working on The Deviation.
The footpath continues and ends up at Coed Y Bleiddiau which is now a furnished holiday let by the Landmark Trust and accessible by train or a walk. There's a bit of history to the place with links to KGB agents and German spies (look up "Lord Haw Haw"). This page is worth a read.
Coed Y Bleiddiau
At Coed Y Bleiddiau the railway traverses a beautiful arch bridge which I first saw on Tim Dunn's Architecture The Railways Built (see series 1, episode 2) I think my enthusiasm at seeing the arch equalled that of Tim's! Here the kids had a little paddle in the stream – which had very little water due to the dry spell we've been having.
Now me being the trainspotter that I am, was sat at Coed y Bleiddiau thinking how fantastic it would be to get a clip of the train going over the arch for Moving Pictures. So I looked at the timetable and work out there would be a train coming through in around 20mins so we waited. After the20mins were up there was no sign of the train having arrived at Tan Y Bwlch (yes I was also watching the webcam!) so we decided to give up and move on.
Naturally just after leaving I see the train arrive at Tan Y Bwlch so I run back up to take the shot. And I got it! It was worth waiting for BUT I need to reshoot before it can be used for Moving Pictures as the clip was a bit shaky.
Onwards Towards the Oakeley Arms
At this point the rest of the family had carried on with the walk and since I didn't know the way, the kids phoned me to say I needed to turn off the forest track and down a footpath and that they had left me a marker.
After a walk along the forestry track the marker was found and I ended up catching up with them pretty quickly.
Thankfully there wasn't much more to walk before we got to the Oakeley Arms. We sat outside as we had Dad's dog with us and the kids could go to the play area. Yummy pizzas were consumed and everyone was happy.
Homeward Bound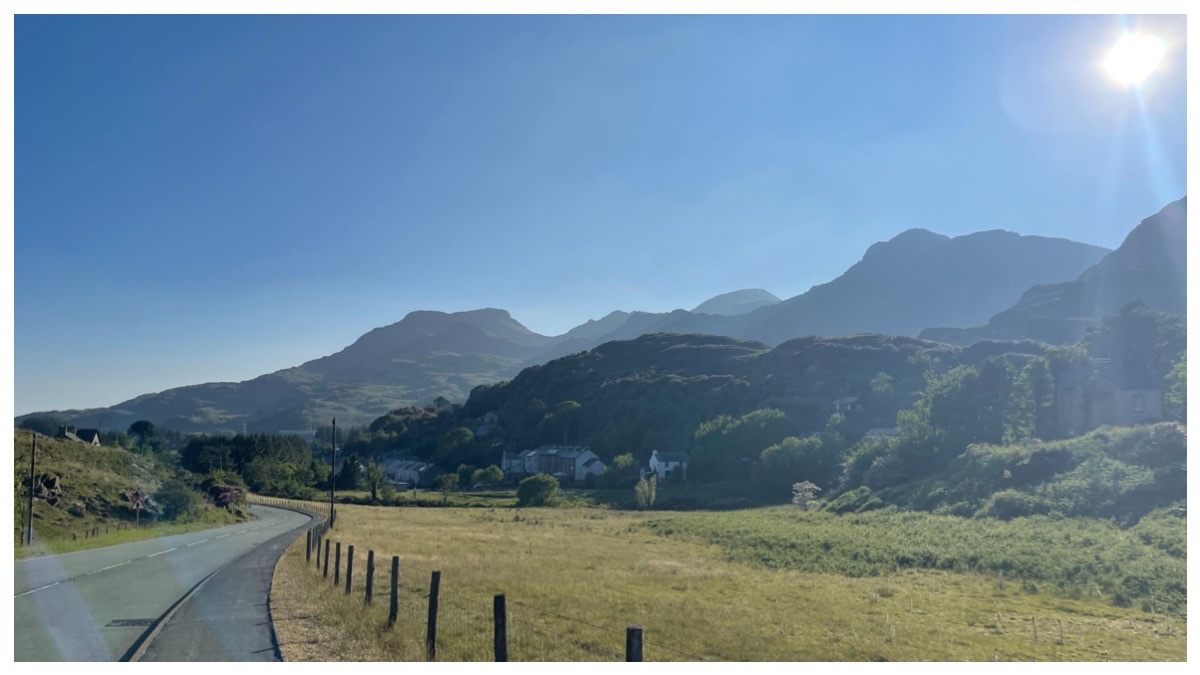 Once we were done at the Oakeley Arms we crossed to the bus stop and caught the bus back to Blaenau Ffestiniog. Due to the timings we missed the last bus back down to Tanygrisiau so we walked the mile back to the cars parked at Tanygrisiau Station.
So not quite a lazy Sunday walk this one but an absolute stunner in the sun!