As the summer holidays are now upon us I thought I'd share some things you could do if you visit Snowdonia/North Wales over the summer.
If truth be told this ended up being a bit of a nightmare post to draft mainly because there is so much to do here! In the end I had to be a bit generic but I'm hoping that this post will convince you that you need to visit this beautiful area!
1) Beaches
The Llyn Peninsula, Anglesey and North Wales coastline is abundant in beautiful beaches. We have a number of blue flag beaches for you to visit.
One tip – be careful if you visit with dogs as there are strict rules with regards to dogs being allowed on certain beaches.
2) Karting
There are a number of go-karting tracks around here. There's two fabulous outdoor tracks – one at Glasfryn Parc near Pwllheli and one at the old Penrhyn Quarry. I have been to the outdoor track (years ago!) where it soon became apparent that I would never be an F1 driver!
*there are loads of activities available here well worth checking it out
3) Biking
There are plenty of places to go biking in North Wales (although if biking on the roads please use cycle paths where possible!).
4) Zip Wires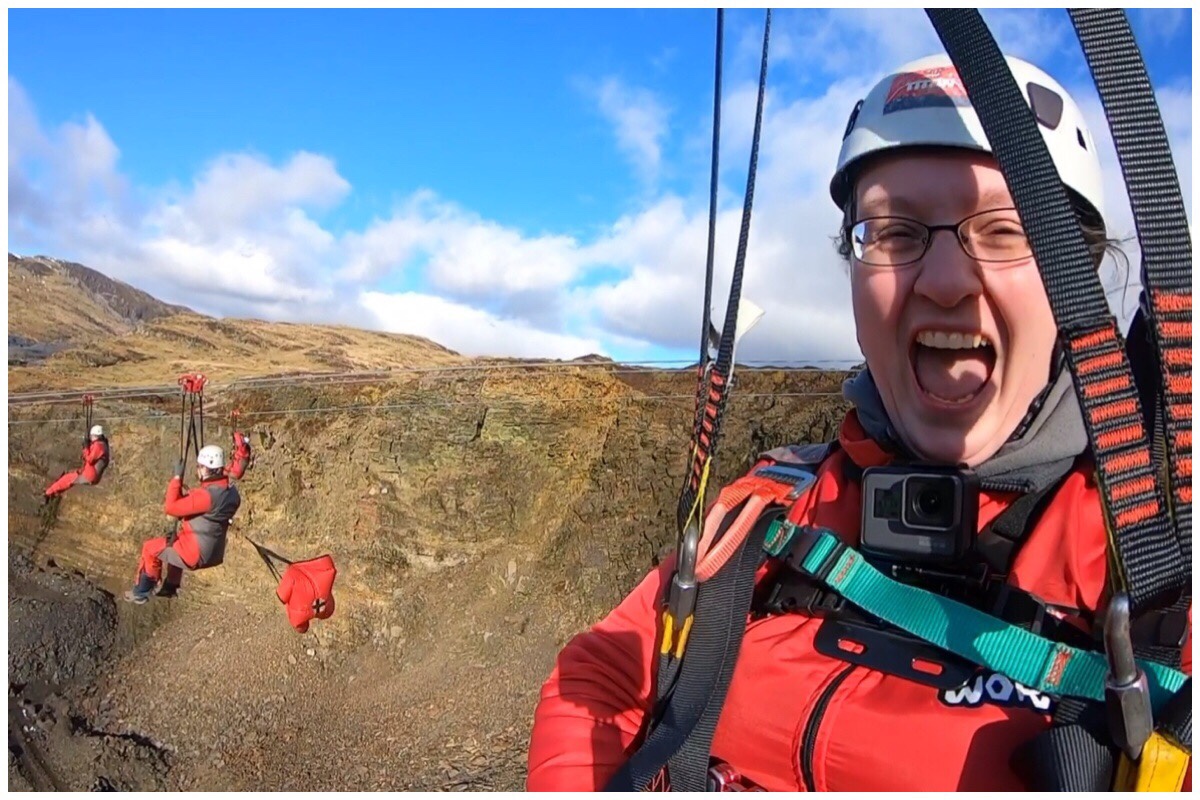 One of the main reasons that North Wales has become the adventure capital of Europe. Boy have we got a great selection of zip wires for you! We have overground wires (including the longest wire in Europe) and underground zip wires.
The latest phenomenon seems to be this plunge into darkness zip wire. Not sure if I'm brave enough to do it!
ZipWorld – includes longest zip wire in Europe & the underground zip wires mentioned * (Blaenau Ffestiniog & Bethesda)
Go Below – includes the deepest underground zip wire (Betws Y Coed)
* you might also want to check out Bounce Below (a giant underground trampoline – looks like so much fun!) which is at the same site as some of the zip wires
5) Castles
Oh where do I start when it comes to castles? I suppose I should start with the grandest – Caernarfon Castle. Argueably the grandest of King Edward I's castles here in Wales. There are a number of them dotted around Snowdonia and the North Wales coastline.
There are also other castles which are not Kind Edward I's castle such as Castell Dolwyddelan and Castell Dolbadarn.
Castell Caernarfon (Caernarfon)
Castell Dolbadarn (Llanberis)
Castell Dolwyddelan (Dolwyddelan)
6) Old Mines
We have mines aplenty here in North Wales – from slate to copper, there's always some cave to explore!
Notable old mine attraction include Llechwedd Slate Caverns (which is also the home of some of the zipwires and the Bounce Below attractions). This one holds a special place in my heart because it's in my hometown and it was somewhere we'd visit every year. As it happens, my Dad used to work at the quarry as well. We visited the caverns at Christmas to see Santa but no matter what time of year it is, it's still a great place to visit. I would highly recommend a visit!
If however you fancy visiting some copper mines then why not try Sygun Copper Mine in Beddgelert or the Great Orme Mine in Llandudno?
7) Railways
Ahhh another favourite of mine! I really love steam trains which partly is due to Thomas the Tank Engine and partly due to the fact that the Ffestiniog Railway ran right past our house. Growing up with the smell of steam trains was lush!
8) Zoos/Farms
If you're into animals and want to visit some then I could recommend the Welsh Mountain Zoo. I've been there recently and it was great! As for farm animals, then you have Henblas Country Park – I've not been here since I was a kid so not sure what it's like these days. And then you also have Anglesey Sea Zoo which is more of your fishy variety!
9) Adventure Playgrounds and Playareas
I've yet to do any of these but I've been told that the tree ropes are fantastic! I've also been told that the softplay areas at Glasfryn Parc and Hwylfan are great. I've not been to the Hwylfan for years but intend to take Little Miss there soon.
10) Mountains (Gandalf)*
We have some stunning mountains here in Snowdonia. Clearly the most famous mountain is Snowdon (highest mountain in Wales). I'm ashamed to say that I have never been to the summit but there are plenty of ways to get there – walking is of course the proper way to do it but as mentioned above, you have the Snowdon Mountain Railway is you're up for the easy option!
However there is a whole range of mountains to choose from:

There are plenty of walks and hiking trails for these mountains. My favourite has to be the hike up to Cwmorthin (pictured below) which is in the Moelwyn range.
* this reference is for the hubby! Whenever we say "mountains" it is normally followed by "Gandalf" due to the phrase "I want to see mountains Gandalf" as uttered by Bilbo Baggins in Lord of the Rings!
OK so that's it for now! I think I've given you enough ideas of what you can do if you visit – there is so much more I could mention (such as surfing at Surf Snowdonia in Dolgarrog).
However if you're still thirsty for more then checkout the Snowdonia360 site website for more.