I was writing my 2022 year in review and I realised that it's been a busy year on the Ffestiniog & Welsh Highland Railways. As a volunteer videographer (or camera person or more appropriately that random woman who turns up with a camera), I've seen most events. So let me run through the year. 
March – Return of Train Services
Nothing to note for January & February so let's skip straight to March! End of March saw the return of the scheduled service trains. This year the Blaenau Ffestiniog service returned from day one. And guess who was on the very first train to Blaenau? You got it… me! I was on the very first Mountain Spirit* service of the year!
(* I'm not sure if it's true but apparently I named this service)
April – Snowdonian Weekend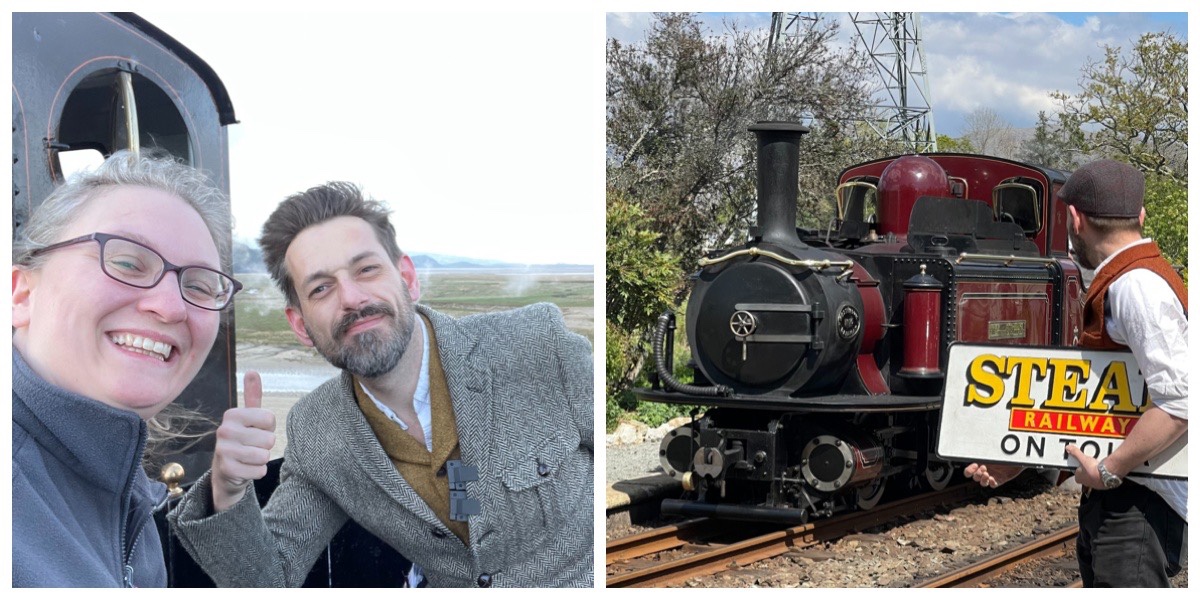 The Snowdonian is a train that travels the whole length of the 40mins track. It goes from Porthmadog to Blaenau Ffestiniog back to Porthmadog through to Caernarfon and back to Porthmadog.
A great weekend was had by all I think. On Friday afternoon it kicked off with meeting some VIPs at Porthmadog mainline station. There were many big wigs in attendance including a railway celebrity – Mr Tim Dunn! Who I can confirm is just as lovely (and enthusiastic) in real life as he is on the telly.
May – 40 Years to Blaenau
Can you believe it? It's been a whole 40 years since the railway reopened all the way to Blaenau Ffestiniog? For me rthe railway has always run to Blaenau as I'm under 40 but it was a cause for celebration with a special train headed up from Porthmadog to Blaenau Ffestiniog. The train carried the "Blaenau Here We Come!" headboard exactly as it did 40 years prior. I got to see this train from my garden and it was just one of those emotional moments for me. I stood there watching the train pass back down and exactly 40 years prior I can guarantee that my Taid was stood in the same spot watching the train go up. (Actually I lie, there is a good chance he was on the first train back to Blaenau in 1982).
June – Rail Ale Festival & a Visit to Glan Y Pwll Works
In June I saw more WHR action than Ffestiniog action. It was return of the Rail Ale Festival at Dinas Station. Whilst I'm not a drinker so an ale festival isn't my thing, I  did attend to do a little bit of filming. It was just fun to be whizzing back and forth from Caernarfon to Dinas on the shuttle service!
On a random Sunday I managed a visit to Glan Y Pwll works – somewhere I hadn't been since I was a child. Such a trip down memory lane as both the ALCo and The "Square" are housed there. Both engines are possibly two of my favourites*!
(* ok I'm kidding… I love them all!)
July – Russell on the WHR & Race the Train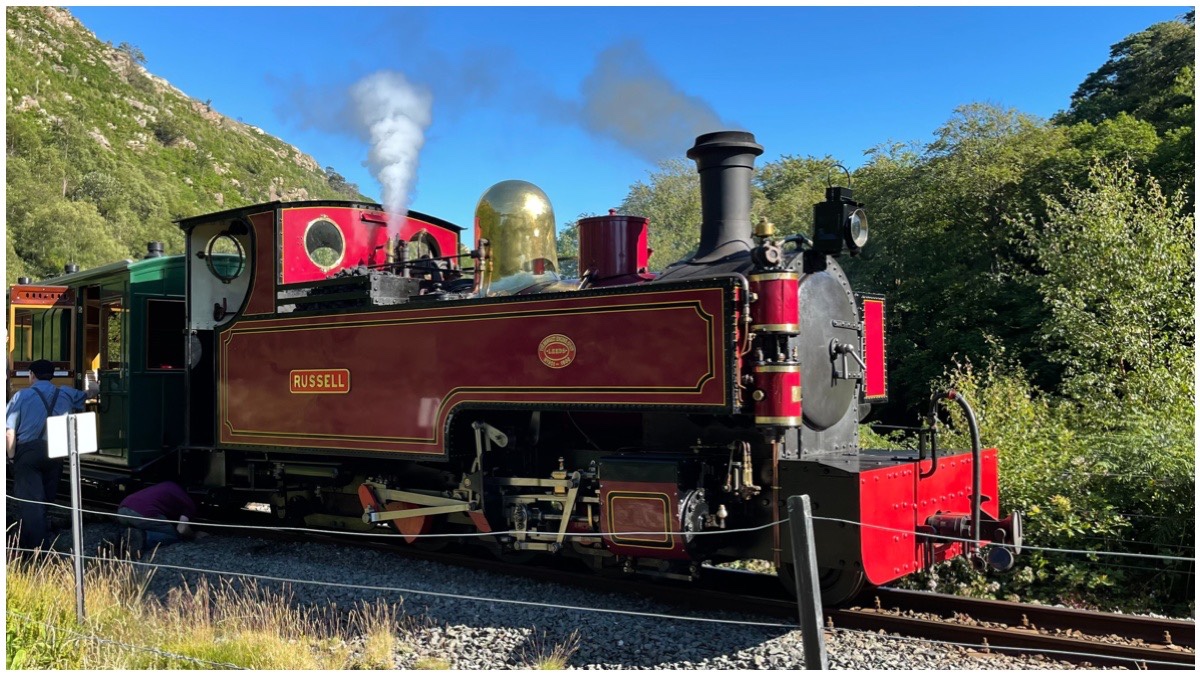 There's a centenary celebration happening and last year Russell was operating the WHR line from Dinas. Russell is the only remaining original engine that operated the NWNGR line so it was a momentous occasion to see Russell back on it's home ground. Russell operates on the Welsh Highland Heritage Railway in Porthmadog (not to be confused with our WHR line between Caernarfon and Porthmadog – easily done I know!) so it was lovely seeing it having a longer run. 
The Race the Train event was great! It was a beautiful sunny evening which saw runners race the train from Dinas to Caernarfon. There was a junior event first where the children were dropped off by Hendy Crossing (half the distanced of the main event). It was so lovely watching all these little kiddos race the train! The adult event was also equally as good! I'm well impressed with all that took part. It was a fun evening and a great turnout.
August – ALCo Crawl
On a beautiful morning late in August a team of approx 20 staff, volunteers and friends of the railway hauled the ALCo over the Cob from Boston Lodge to Porthmadog Harbour Station. It was a challenge to see how quickly the team could pull the engine over the Cob. The aim was to raise money for the engine's restoration fund. I walked over the Cob filming the crawl and it was over in a flash really! I can't remember the official timing but I think it was under 20 minutes.
September – TrailFfest
In September 2022 we saw the return of TrailFfest after a break due to Covid. This event saw runners race the train from Tanygrisiau down to Porthmadog. It isn't for the fainthearted I'll tell you that much! Traversing cross country on muddy terrain, tarmaced roads and gravelly footpaths! Let me clarify… I most certainly wasn't a runner! I was chasing the train to gather footage for a Moving Pictures episode. A few runners managed to beat the train! 
October- Bygones Weekend
The railway's flagship event happens at the start of every October – the Bygones Weekend! It's three whole days of non stop trains which sees me dashing here, there and everywhere with a camera. This was the third Bygones Weekend that I have attended and it didn't disappoint. Goods trains, gravity trains, services to Tan Y Bwlch and to Blaenau Ffestiniog, evening photoshoots but the best thing was being in the tender of Welsh Pony from Port to Blaenau. (I might have mentioned it a few times!)
November – Warley Model Railway Show
Now I'm going to be honest, I do love trains and model railways are no exception. I'm not au fait with model railways but I did attend Warley Model Railway Show at the NEC with the Railway. It happened to coincide with the anniversary of Nain's death so it was an excellent distraction for me. I only attended for a day so I didn't see everything on show but some of the layouts I saw were absolutely incredible. Weirdly I didn't take any decent photos of the show itself but 
December- Santa Trains
Of course no Christmas is complete without a Santa train (or two!). I saw one of the Caernarfon Santa trains return one day and it looked fantastic! Not only that but I also took the kiddos to see Santa at his carriage grotto at Harbour Station. Couple that with a ride on Hugh Napier along the platform and wonderful food at Spooners and I'd say it was a grand day out!