Newsflash… I'm still alive! I will admit that I've been neglecting the blog of late…. so let me try and get things back on track (no pun intended) by reviewing 2022! Yes I know we're half way through February already but January is always a blur with my job. Anyhoo… 2022 was a year!
January
The year started off doing the best thing one could possibly do – trainspotting! Ironically it was the last train of the season and we chased K1 from Porthmadog to Beddgelert and back. That excitement was short lived though as I had to return to work to do tax returns fort the rest of the month.
There was a birthday as my eldest turned 8 and we had a party at Beacon Climbing. And at the end of the month sees my birthday though so I got to go out to the Chinese for a meal.
February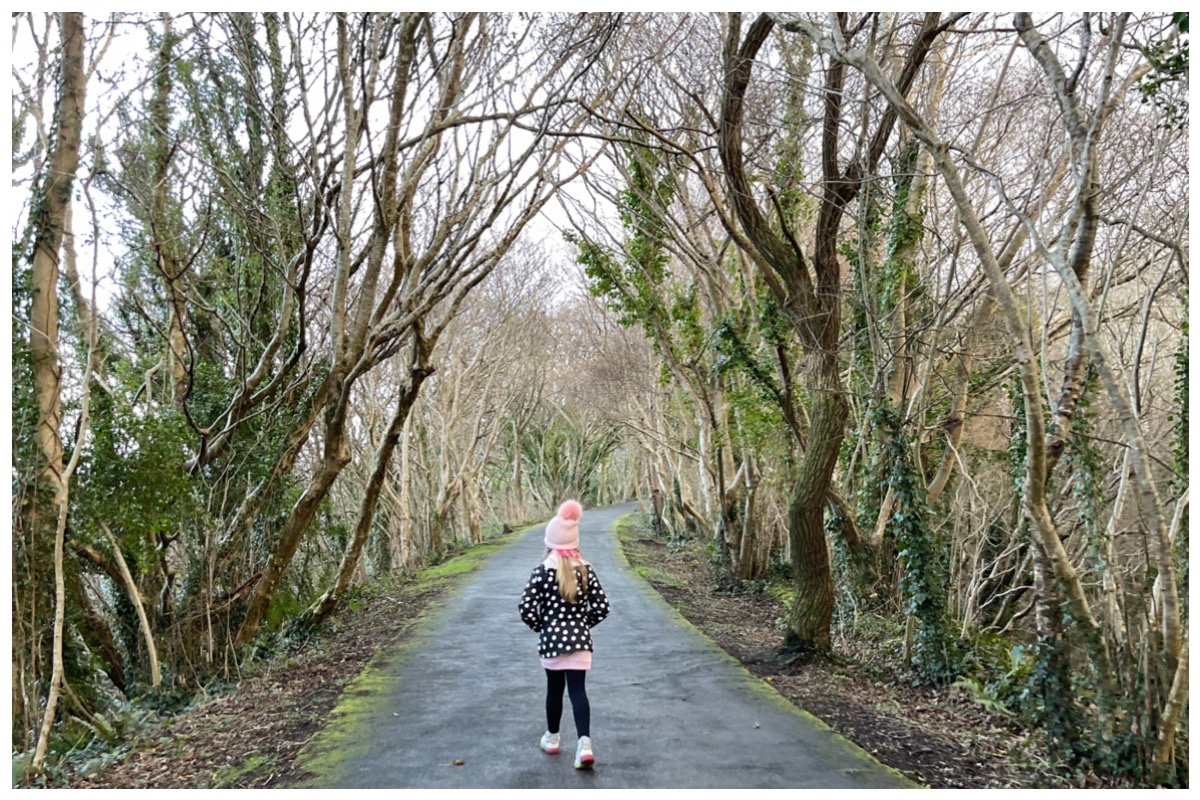 Hallelujah I survived another January! What did February bring? There were a few walks including Lon Las Ogwen from Tregarth to Bethesda. Not the first time we've done it but it never fails to impress me – it's the old Penrhyn Quarry trackbed and the old stomping ground of Blanche, Linda & Charles (the former two are now running on my beloved Ffestiniog Railway).
Half term saw a trip to the Lake District which meant I could finally tick off the Lakeside & Haverthwaite Railway off my bucket list! After a few days up there I left the kiddos with Dad and headed back to Wales to get back to work. This of course meant even more trains as I travelled down by rail. It was an inreseting experience given we were in the aftermath of a horrendous storm (was it Eunice?).
I may have neglected to mention that one of my work days was down in Aberyngolwyn and well seeing as I was down there it would've been extremely rude of me not to call in at the Talyllyn Railway wouldn't it?! So yes, another ticked off my list!
March
March started off with a false start on the train front. I had intended on doing the Conwy Valley Line early March but my train was cancelled (due to works in the tunnel). Seeing as I was already in Blaenau and it was a beautiful day, we didn't let it ruin our day and ended up having a wonderful walk around Tanygrisiau… first of many I'm pleased to say. Later on in the month we managed another visit which ended up exploring the far end of the Dam where we found frogspawn. Simple things bring me joy!
Mid March I did manage a trip on the Conwy Valley Line and it was wonderful. Yes it's big normal dirty diseasel trains but the view are just magnificent. The day ended up with a walk along Conwy Morfa as the sun was setting. It was lovely… little did I know we'd end up coming down with Covid the next day! Thankfully we didn't suffer too much with it. Lost a day or two to sleep but otherwise it was just a bit of a cold. It lasted the week but by Saturday we were back out again. Took a walk along the Cob where the girls and I found a slow worm. So cute!!
What else? Oh March also brought along the return of the Ffestiniog & Welsh Highland Railways passenger services. Seeing as I'm now part of the Moving Pictures team, I was on the first train to Blaenau Ffestiniog! You can bet your arse I was happy!
April 
The month started with a visit to Blaenau Ffestiniog to see my Dad. We ended up going for a walk and you should see the views! Absolutely stunning place and yes I'm completely biased but there's nowhere better. Also went to the bingo with my school friend. Same week there was a trip to Betws Y Coed which ended up with me balancing on a high wall to see a TFW train cross Bont Gethin – was worth it though!
Another trip to the Lake District and another visit to Ullswater Steamers. This time we decided to walk to Aira Force but were somewhat disappointed at the lacklustre waterfall it turned out to be. To be fair, we did visit after a dry spell so there wasn't enough water flowing for the waterfall to be in full effect. We also walked around Grasmere which was a long walk! Met some wildlife including some randy ducks! Mind you the highlight of this trip to the Lakes was meeting some lovely cows!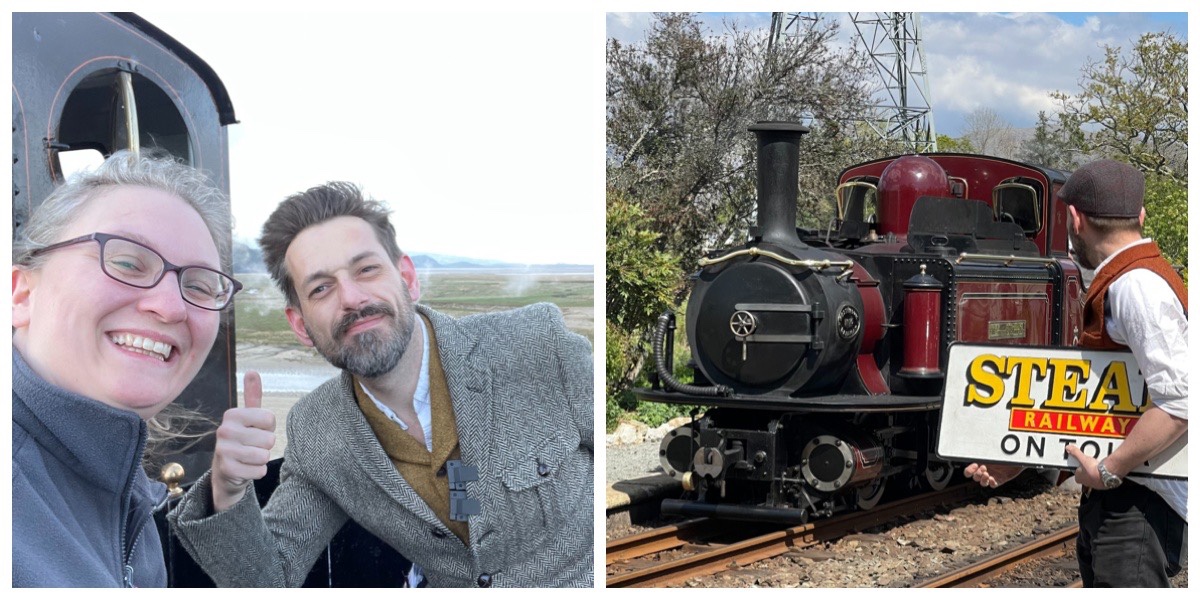 April also saw me visiting yet another railway…. Ribble Steam Railway in Preston! That's another ticked off my list! Over on the Ffestiniog and Welsh Highland Railways I was busy filming the Snowdonian – an epic 40 mile round trip covering the whole of the Ffestiniog and Welsh Highland lines. Over the same weekend I also was filming some gravity train footage. Oh and I met a certain railway celebrity. No not Francis but someone far more important and much more likeable – Mr Tim Dunn! Top Tier railway celebrity spotting there! 😉
May
Ticked off yet another railway bucket list item – the Cambrian Coast line! Ok we didn't do all of it but the girls and I enjoyed a trip from Pwllheli to Llandecwyn where we hopped off so we could walk over Bont Briwet. We then walked around Gwaith Powdwr nature reserve and took in the epic views of the Dwyryd Estuary.
There were another few visits to Blaenau and walks up to Dolrhedyn. The girls had a paddle in the river and I promised to bring them back for a proper swim in the Summer. There was also a trip to the National Slate Museum during the month as Dr Dafydd Roberts was giving a talk about his fantastic career as the keeper of the Museum. On the Railway it was 40 years since it returned to Blaenau Ffestiniog so there was a bit of chasing.
In other news, we also had a visit to Llandudno where my youngest managed to ride her bike without stabilisers! And I saved some bees (do they sleep?) and went to the bingo again.
June
June started with a trip to Llechwedd (sorry Zipworld but it will forever be Llechwedd to me). I had booked the girls onto Big Red but alas my littlest chickened out at the top. That's yet another £10 I've lost into the pits of that place. There was a walk to Angel Bay on the Little Orme where we almost killed poor Gemma. It was a warmish day and she got too hot and was panting and hyper-drooling. Thankfully she was fine! We had some fledgling crows in the garden which was fun! For three whole days we couldn't let the dogs out as the stupid little JRT thought it was her job to eat them. Not to worry! She didn't get a hold of any. I did try and move the chicks to safety but they managed to find their way back into the garden.
Highlight of the month was the beach days we had at Dinas Dinlle. We had some lovely weather and I decided to finish early on Wednesdays to fetch the girls from school and take them to the beach. Setup with a tent, a picnic blanket and a book and it was great! Honestly, when we get nice weather here who needs Tenerife?
I helped my mother in her catering van where we fed a 150 strong group of people for a tractor run. It was a nice enough evening and I managed to snap a few lovely sunset photos along the North Wales Coast. I also had a day of trainspotting along the North Wales Coast but the highlight on the train front had to be getting to see the Glan Y Pwll sheds where the ALCo and the Earl are sleeping. Oh I long to see these two back on the rails.
July
Finally managed to tick off an item from my North Wales Bucket List with a walk to Cwm Idwal. Thanks to the heatwave there were more beach days at Dinas Dinlle but the absolute highlight of the month (in fact the highlight of the year!) was taking my girls swimming to Dolrhedyn. It was one of those core memory moments for me and hopefully for the girls. They absolutely loved it – as did I! It was the perfect weekend – wake up in my childhood home, panad and trainspotting in the garden, head to Dolrhedyn for a swim, down to Lakeside Cafe for lunch before returning to Dolrhedyn for an afternoon swim. Pure bliss!
It was a busy month on the train front with Russell out and about on the Welsh Highland Railway and then the WHR100 event at the end of July (yes I'm also confused that there's another WHR100 event this year. Don't ask me!). I also managed to capture more footage for my Cambrian Coast video which saw me being a weirdo trainspotter at Pwllheli station one lunchtime.
August
The sunny weather continued so we had a few walks including a quick visit to Coedty Dam above Dolgarrog. And there was a walk around Dinorwig quarry where the eldest and I strayed off the path so I could go look at one of the famous triangle cuttings.
There was a few days off during the Summer holidays which saw the girls and I end up in Fairbourne… yes of course there was a train involved! We also saw a chinook fly over the Mawddach Estuary.
Oh and I have to mention that I was on telly! The lovely Gerallt Pennant of Heno invited me to Chester to see Pete Waterman's model railway layout – Making Tracks 2. It was a real privilege to be allowed to play! (You can check the segment here but it's all in Welsh!)
On the railway the ALCo was out and about… not under it's own steam no but even so, it was fab seeing it being pulled along the Cob.
September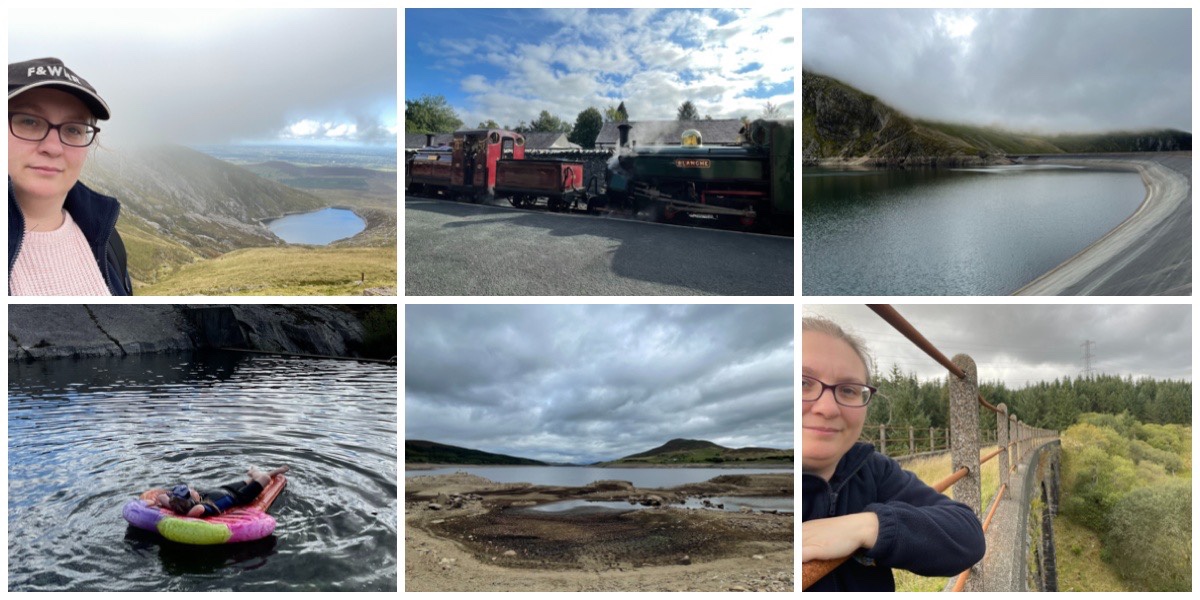 Another trip to Blaenau on the last weekend before school restarted saw me and the girls having a trip on the train from Tanygrisiau to Blaenau. And as the sun turned up we ended up in Dolrhedyn… and the girls managed to convince me to let them put their wetsuits on and have a paddle with the inflatable. To be fair, they seemed to love it and who am I to argue when those beautiful little faces have the brightest smiles on them?
The bright weather continued and walked up to Marchlyn for the first time. It was quite a walk up there but it was well worth it to see the reservoirs. Although it was after a very dry spell which saw the water level being really low. Typical the weather did close in a bit on us as we reached the top…. things we learn living in Wales, always plan for mixed weather!
There were a few trips on the Ffestiniog Railway again this month (would you expect anything less?). One trip was a Statesman Rail charter train where I had the pleasure of riding in Blanche's cab from Tanygrisiau to Blaenau after which I can completely understand why she's affectionately known as the Ricket! There was a day or two chasing the newly refurbished Garratt 143 on the WHR as well. Oh let's not forget the return of TrailFfest where runners raced a train from Tanygrisiau to Porthmadog.
The dry spell I mentioned earlier saw the water levels of Llyn Celyn also dip to almost record levels. Now this is quite a contentious reservoir owing to the fact the village of Capel Celyn was flooded to create the reservoir to supply Liverpool with water. I will not go into the nuances of the situation (nor will I share my numerous thoughts on the matter) but if you want to read up about it then take a look at Wikipedia. But yes, the water levels were so low that you could see some of the foundations of the old village buildings – namely the Capel Celyn burial ground. It was a must to visit. I have memories of visiting the drowned village with my Taid, Dad & Nain as a child in the 80s and I wanted to take my own girls there as well. In case you hadn't noticed, I am big on recreating my childhood memories with my own children. I did try to explain what the place was to the girls but I don't think they quite managed to follow. They'll learn about it one day I'm sure.
Same day as the visit to Capel Celyn we took a slight detour to walk over the Cwm Prysor viaduct which is something I had wanted to do for absolutely ages! Despite the dry weather it was quite damp (wet… it was wet) underfoot. We ploughed on and reached the viaduct. What a fantastic structure! It's on my list for 2023 to revisit and do some proper exploring. As a side note, Nain lived in one of the houses near the viaduct and she used to tell me about the train passing by and dropping off supplies with them in the valley.
October
Kicked the month off with a lovely walk in Llanberis. The girls and I found Coed Doctor after we took a wrong turn on a footpath. Great move though as we found a clearing which had a rope swing and a bug hotel. The footpath then led down to a lake. After this we took the scenic route home where I might've fallen in love with (more) cows!
It was Bygones Weekend at the Ffestiniog & Welsh Highland Railways. THREE whole days of trains! Pure bliss! Although the weather was shocking on the Friday – torrential downpours which saw us seek shelter in Tan Y Bwlch for a while. I was meant to be on a gravity train but someone (naming no names but you know who you are!) had forgotten to book me on it. However reputation was redeemed when I was placed in the coal tender of Welsh Pony on a trip to Blaenau instead. I won't bang on about it here but I travelled the whole length of the line in the coal tender and it was freaking fabulous!
Another trip to Blaenau mid October ended up in disaster! It was all good to begin with… girls and I walked around Llyn Ystradau with the dogs. But as we got to the other side the biggest dog (Gemma the F**wit Beagle) managed to get off the lead and ran away. We saw her running up the side of the Moelwyn. I had to leave her to go as I couldn't leave the girls to chase after the stupid dog. I called for reinforcements… mother and her partner turned up. Mother looked after the girls whilst her partner and I headed off in search of Gemma. I also called my friend with a drone to see if he could help. Thankfully when we got back to where we last saw the dog, she had returned and was waiting at the stile for us. It was a mixture of relief and anger to see the smile on her stupid little face I can tell you!
A family walk along Lon Eifion ended up with a train trip from Dinas to Rhyd Ddu and back. It was also the first time for the dogs to travel by train! They behaved so well to be fair to them. Not quite sure what to make of it.
The month ended with another trip to Llanberis. This time to the National Slate Museum. I took the girls on a random day out there (well why not!) and we saw the slate splitting demonstration. The girls and I then watched the sunset at Llyn Padarn.
Half term was very late here in Wales so Halloween coincided with the girls being off school. During that week there was a trip to the SeaLife Centre in Rhyl and numerous trips to Gwrych Castle where I was helping my mother with her catering van. On Halloween itself I took the girls to see the fireworks at the castle and a good time was had by all.
November
Half term continued into November. The girls and I met up with Dad and his family in Betws Y Coed. We had a lovely day out having a walk around the village and having pizzas at Hangin Pizzeria (as recommended more than once by my friend). We all ended up on the miniature railway at the Conwy Valley Railway Museum. The dog barked for the whole 8 minute journey and as my littlest said it was "so embarrassing". The kids went on the train again (without the dog!) and it was great watching all three of them together.
Kiddos and husband went up to the Lakes for a few days before I joined them on the Friday. I travelled up by train on a day in between rail strikes and was so worried that my train would be effected. As it happened, it was effected but not because of the strike! I got stranded in Warrington Bank Quay for over 90 minutes. Eventually made it to the Lakes where we decided to visit the Ravenglass and Eskdale Railway's Autumn Gala. It was slightly damp but ah it was a train!!
On the way home from the Lakes we stopped at Blackpool. Might be a weird choice for some people but the girls had never been and I also had fond memories of visiting as a child. We went to Blackpool Tower and spent a fortune (really expensive!) going to the top of the Tower and to the Tower Circus. The top of the tower was an experience… littlest was a carbon copy of my childhood visit. Walked out of the lift at the top, said "nope" and cried. EXACTLY like I did at her age! Eldest on the other hand loved it and walked to the other two top levels with me. The circus was great as well and Mookie the Clown still causing havoc. We also went around Madame Tussaud's and drove along the front to see the Blackpool Illuminations before heading for home.
Mid month the girls and I made the trip towards Blaenau although we didn't quite make it there. Instead we stopped at Coed Cymerau and walked from Rhydysarn all the way up to Cymerau Canol. We wanted to see the waterfalls! And we did! It was a lovely walk I must admit.
There was a trip to Chester for the girls and I. We went to see my aunt and we all went to Chester Zoo to see the lanterns. Lovely evening out and we had a great time. Must do that again soon… not the zoo but visiting my Aunt.
End of the month was terribly tricky for me. It was a year since Nain died and my emotions were all over the place. Weirdly it wasn't so much the day she died that got me upset but the days leading up to it. It's never easy the first anniversary after someone dies. I decided that I needed a distraction so I travelled down to Warley Model Railway Exhibition to volunteer with the Ffestiniog & Welsh Highland Railways who were in attendance. It was a big show and I'm pretty sure I didn't see half of it really.
December
In December we attended the elf academy at Gwrych Castle where the girls got to meet Santa. It wasn't the only Santa meeting of the month though as they also got to see Santa when he visited his grotto at Harbour Station. We attended a Christmas concert in Pwllheli where the Oakley Silver Band were playing and Dylan Morris was singing. It was a great evening spent with my Dad.
Another highlight was of course visiting the National Slate Museum for their Christmas event where we made traditional decorations out of oranges and spices. And no month is complete without a trip to Blaenau. Whilst my plan to have Christmas Day in Blaenau didn't pan out (less said the better there), I did my usual Christmas Eve trip with the girls where we had lunch at Lakeside Cafe.
If you're still reading… wow thank you! 2022 has been a busy one judging by the length of this post. I'm hoping 2023 will be even better!
How was your 2022? What are you looking forward to in 2023?