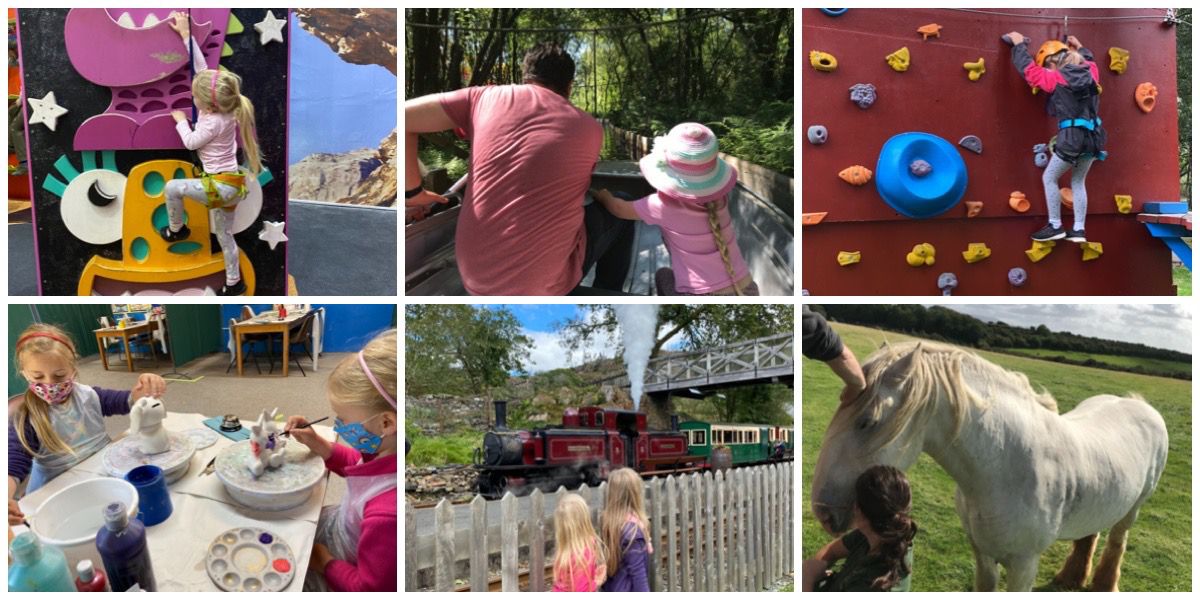 The kids have broken up for Summer holidays and restrictions in Wales is easing and things are looking good! The girls and I are discussing days out for Summer. So here are 6 days out with kids in Snowdonia that you must do! 
Beacon Climbing Centre
After having a tasted session with friends back in 2019 (!!) the girls really want to go back to Crazy Climb at Beacon Climbing Centre. It's round the corner from us and with day passes costing as little as £5 each for the kids, it's the perfect day out! Kids can go climbing (under supervision of an adult) and once you're done you can have a meal or a snack at the cafe. The climbing centre is situated in the old Barcud television studio so you'll find some original studio fittings around the place such as the "on air" lights.
Beacon Climbing Centre / Caernarfon / 01286 677 322 / Website / Facebook / Instagram
Ropeworks Active
Sticking with the climbing theme my eldest really wants to go back to Ropeworks Active in Llanberis. She's been a few times now and I think she might be tall enough to tackle the big circuit! Not sure if the littlest will go on the small course without her sister though as she's a bit scared despite the bravado. See my previous write up here.
Ropeworks Active / Gilfach Ddu, Llanberis / 01286 871 114 / Website / Facebook / Instagram
Gelli Gyffwrdd – Greenwood
Ah the innocence of children! The girls have decided that they want to go back to Gelli Gyffwrdd (Greenwood) in order to make use of their season passes (which expired end of 2019!). But they have a point, it's such a great day out that we will reinvest in season passes soon. It's a go-to on a weekend as it's only down the road. Plenty of things to do there – roller coaster, water slides, treehouses, maze, boats, bikes, playbarn for younger kiddos and the softplay barn for older kiddos. 
Gelli Gyffwrdd – Greenwood / Felinheli, Caernarfon / Website / Facebook / Instagram
Foel Farm Park
Despite this being an absolute fab day out we've only been there once! There's so much to do at Foel Farm Park – meeting and feeding the animals, we had great pleasure feeding some lambs a bottle and feeding the very greedy goats. The girls got to cuddle some bunnies and thankfully I managed to convince the girls (and the husband!) that we didn't need to take one home. Our visit also included a tractor ride to see one of the few remaining Shire horses in the UK. The Shire wasn't the only equine we saw – the girls got to have a pony ride as well! Afterwards we had food at the Farm cafe before burning off the sugar at the park. A fabulous day out had by all! 
Foel Farm Park / Brynsiencyn / 01248 430 646 / Website / Facebook / Instagram
Rheilffordd Ffestiniog Railway
Yes a visit to the Ffestiniog & Welsh Highland Railways is the one I'm looking forward to most but I didn't choose to include this day trip because of me! Nope I've included it on the list for my eldest. We watch the train videos often and she wants to go back to take photos with her own camera. She is turning into a proper little train enthusiast! And I LOVE IT! If you have little ones (or even big ones) who love Thomas the Tank or trains then this is an amazing day out! The smell and sounds of the steam trains is just amazing! Read about my trip on the Ffestiniog line here.
Ffestiniog & Welsh Highland Railways / Porthmadog & Caernarfon / 01766 516 000 / Website / Facebook / Instagram 
Piggery Pottery
This is another firm favourite for the girls. Piggery Pottery is based in Llanrug near Caernarfon. There you can paint your own pottery! As the name suggests, there's a lot of piggies but you can paint anything you like. The girls love it so much and it's a god send for parents…. kids create the mess and you don't have to clean up! 
Piggery Pottery /  Dol Helyg, Cwm-y-glo, Caernarfon LL55 4DA / 01286 871931 / Website / Facebook / Instagram
There are so many places I want to explore but these are our priorities. What's on your list to visit?
For more ideas on what to do in Eryri (Snowdonia) then take a peek at Snowdonia360.