It's lights on and ho ho ho… yeah alright not quite what Crofty would say but seeing as it's Christmas we can change it up a bit! You may recall that last year I visited Silverstone's Christmas Do (see here – you're forgiven if you don't remember as it was all a Covid blur!). Well the kind people at Silverstone invited me back again this year! And it didn't disappoint!
This year was even more spectacular than last year's event (although let's be fair – Covid restrictions hampered proceedings in 2020).
The Lodge
The Silverstone Wing was converted to an alpine setting aptly named "The Lodge". In The Lodge there was plenty to do for everyone no matter what age:
– axe throwing
– curling
– Christmas cinema
– colouring stations for the little ones
– live music
Now unfortunately due to time constraints I didn't get to try my hand at the curling nor axe throwing – I'm actually not sure it would've been an idea to hand me an axe… I could do some damage! And shamefully we didn't get to stay to see some live music but we passed some of the band on the way out and they looked ready for some Christmas rockin'! 
Ice Trak
A part of the pitlane had been transformed into an ice rink. The Ice Trak took you through some of the pit garages and it looked like such good fun! There were figure skaters on the ice at one point but I missed them unfortunately as I got distracted by an F1 car on track…. I'm easily distracted by shiny things and the Mercedes-AMG Petronas W10 is very shiny! 
(Ah I definitely should've gone back to the Ice Trak as it turns out there was a Ferrari F1 car there as well! As I say, so many shiny things to see!)
A Grand Opening By Mercedes-AMG
The event was officially opened in style with some F1 action! Ant Davidson took the 2019 Championship winning Mercedes-AMG Petronas W10 car around the track. Oh if you've seen my train face then you ought to have seen my F1 face! AMAZING! Seriously incredible! I genuinely don't know how Ant managed to drive that car around the track in the dark! But he managed three laps (without crashing!) – man's got skills! After the laps the car was parked down at Club Corner for a photography session.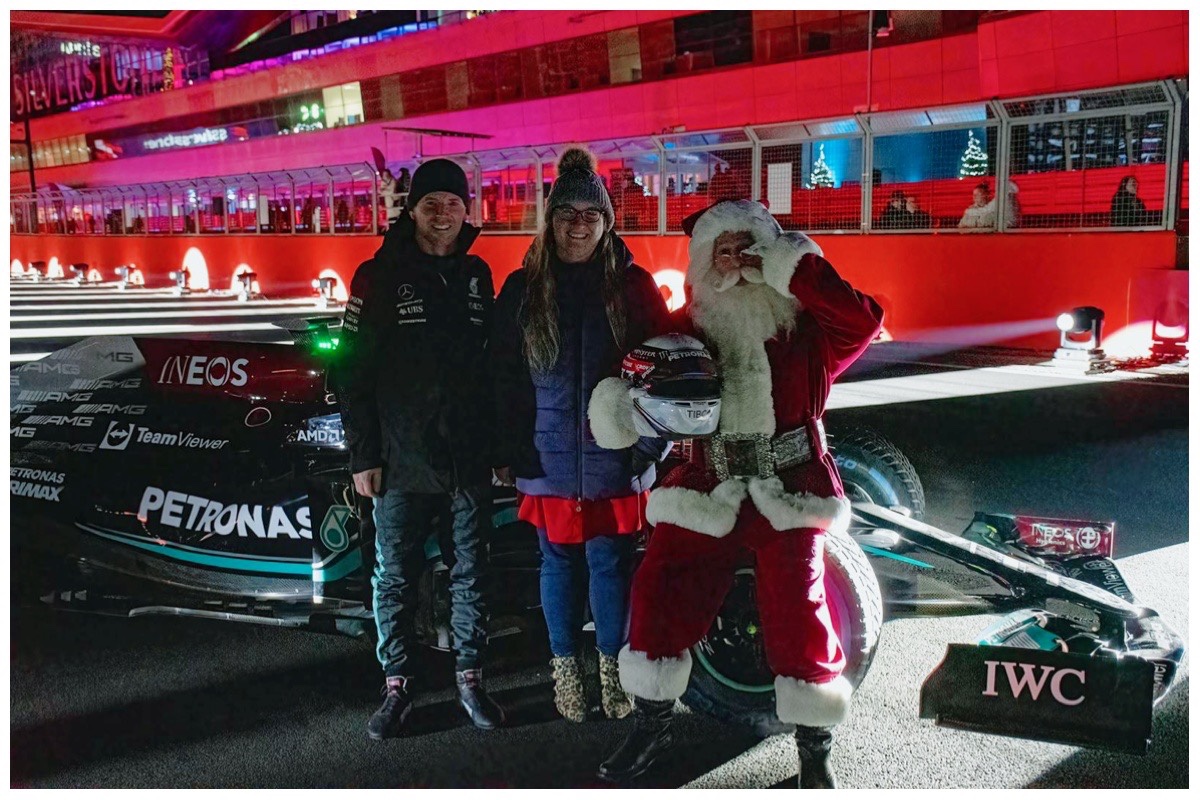 So off I went with my photographer (I borrowed one for the day!) and stood there in and amongst proper media folk like David "Crofty" Croft of Sky F1 and Craig Slater from Sky Sports News. Of course also got to chat with Ant Davidson for a bit but no offence the main man himself was there… Santa!! As you can see, I was super pleased to see them both!
Once the media was done with the car they wheeled it back off the track and into the trailer to take it back to the National Pit Garages (the old pits). I spent a good while watching them trying to get it into the trailer and there was one moment when I thought they wouldn't get it in! Those cars are HUGE! 
(If you want to see the action then I will be sharing a video on YouTube soon or in the meantime take a look at my Instagram highlights)
Lap of Lights
Onto the main event! The Lap of Lights is a bit different to last year but no less brilliant. Getting to drive your car around the legendary Silverstone Circuit is still amazing! The Lap of Lights this year is themed as a trip around the world with different sections representing different areas of the World. For example, we started with Europe at Maggots which suitably had some Ferraris, before heading over the Atlantic (Becketts) to visit the USA at Chapel. After seeing the beautiful American trucks (so pretty!) we headed down Hangar Straight to visit the Arctic, the Pacific before passing through Stowe to Africa and Asia. Some more ocean scenes greeted us at Vale and Club before we headed down Hamilton Straight to see Santa waiting for us at Abbey. Absolutely fantastic evening out! 
Lap of Lights ticket prices start at £30 per car including all occupants. Ice Trak is from £8 for adults, £6 per child. Entry to the Lodge is free with a Lap of Lights ticket. The event opens on 26 November and runs through to 3 January (closed on 29, 30 November and 25 December)
Silverstone – website / Facebook / Instagram