I can't believe it's been over a week since I went to the British GP! Time really has flown by. I had such an awesome time and I'm going to share with you some of the best bits.
Adloniant
There's always plenty of entertainment at the British GP and 2018 didn't disappoint. The FanZone had all sorts of things going on – from driver fitness tests, tyre changing challenges and F1 gaming.
At the main stage were numerous music entertainment including Jo Whiley and Mel C. But the BEST thing I saw on the main stage was the papier mache drivers dancing to YMCA! (Watch the video!!)
Lewis Hamilton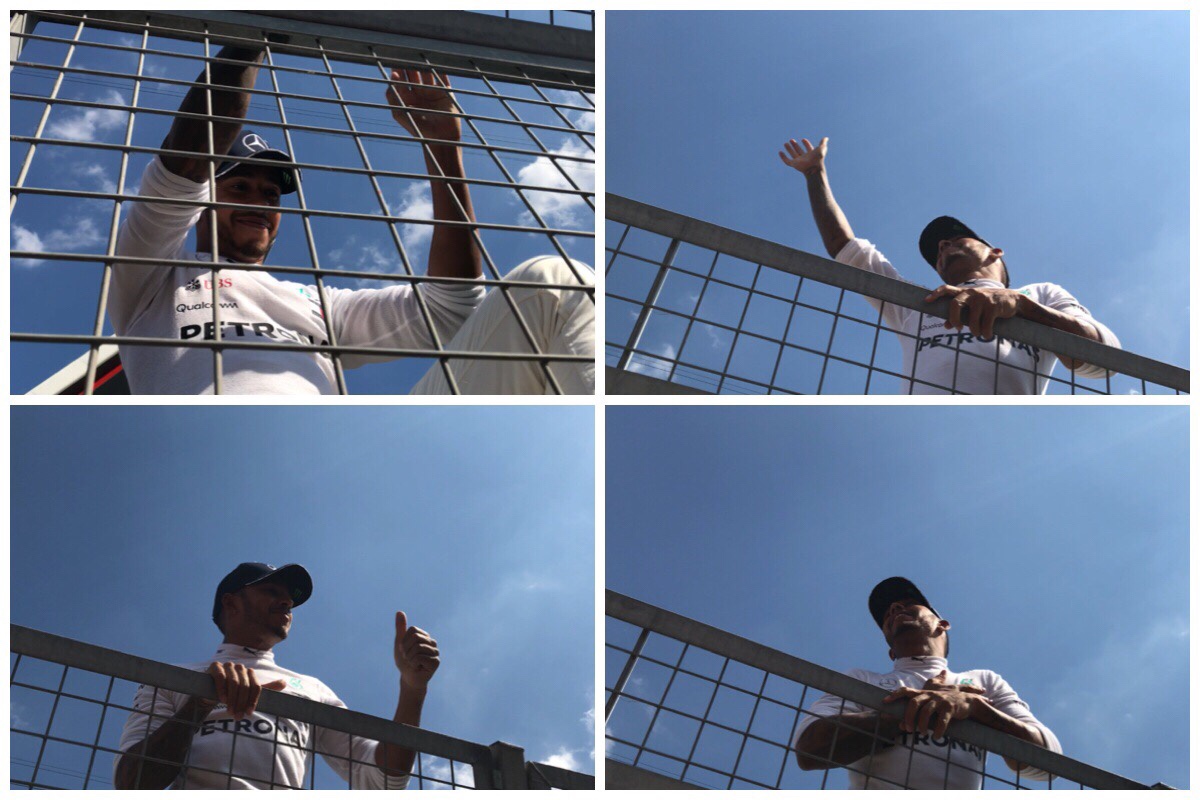 I'm not a big Hamilton fan but he won me over during the British GP weekend. He did a fantastic lap and qualified in pole position.
Unfortunately due to a bad start he was hit by Kimi Raikkonen and fell towards the back of the grid. It was worth being at the race to hear the crowd reaction. Being the only British driver on the grid, the crowd mostly were supporting him even if they weren't – if that makes sense.
He had a sensational race and ended up finishing in 2nd place. I know that after the race there was some controversy in that he didn't do the interview but from what he said, he was exhausted so I don't really blame him. It was a hell of a race.
Also, we got quite close to him during our track invasion – I would highly recommend you watch the video!
Post Race Track Invasion
Post race the track invasion happened – as always! But this time I didn't have to jump a fence as they opened the gates for the fans. I had hoped to get under the podium for the celebrations but I hadn't realised that you can't really see the podium from the track.
Instead I ended up down the start finish straight opposite the garages where both Channel 4 and Sky Sports F1 were filming. So if you look closely you can see a certain Becster in the background of both channels.
Driver Appearances
As there were no Pit Walk tickets to be had – still don't know how to get my hands on those – I didn't get to meet any of the drivers. I did however see them on the main stage post qualifying. There they were interviewing Pierre Gasly, Brendon Hartley, Valterri Bottas and of course Lewis Hamilton. Also Jenson Button made an appearance!
Not only did I catch glimpses of the ex-drivers who've turned their hands to being TV pundits – Channel 4's team of David Coulthard, Susie Wolff, and of course Mark Webber… and Sky F1's team of Paul DiResta, Damon Hill, Johnny Herbert and Jenson Button.
Also on Thursday afternoon a certain Lance Stroll and Sergei Sirotkin (the Williams guys) were spotted in the FanZone. Unfortunately I wasn't quick enough to grab a selfie with Lance Stroll but I was oh so close!
Oh I had such a wonderful time and I am SO glad I managed to go. 2019 tickets are on sale now and I'm debating to go for grandstand tickets or not.
Did you watch the race? What did you think of the British GP?