Siam Park tops the list of water parks in the world. It's been voted Tripadvisor's best water park in the world for 5 years running… so it's something special. We went there 10 years ago and during our most recent holiday to Tenerife we went back for a few days.
History  – Slides – Beach & Wave Palace – Fast Pass – Kiddie Play Areas – Bwyd

Siam Park – Brief History
One thing you'll notice is that the theme of Siam Park is very much Asian – elephants, buddhas and the like. But what's an Asian themed water park doing in the Canary Islands? Well the designer of the park had to obtain permission from the Thai Royal Family in order to use the Thai theme. The park opened to the public in September 2008 by HRH Princess of Thailand.
I hadn't realised it had only opened in 2008 – it was almost brand new when we visited back in November 2008 then! Although my husband is adamant that he had been there 20 years ago… he hasn't, but he won't let it go!

The Slides
There's a total of 10 waterslides at Siam Park. They range from a relaxing lazy river to a thriller waterslide where you reach almost 20mph. During our latest visit we sampled all but two of the waterslides (the Tower of Power we've done way back in 2008 and it's not something I'll be repeating!).
This ride is new to us… it wasn't there back in 2008 when we first visited. The husband LOVED this ride! It is definelty the thriller ride of the park. It's a two person (or single person) inflatable ride and is super fast! Being the smaller one of the two of us, I had to sit in the front which meant I was the one who got a faceful of water! I can't even tell you what this ride is as I closed my eyes tight the first moment water hit my face. But the one thing I can tell you is, hold on for dear life!!
This is the lazy river and is the longest one in the world. It has changed a bit since we were there in 2008 with an added slide section. Little ones can ride the lazy river if they sit on your lap. We took the girls on this and they loved it. The only trouble with the river is that it gets busy especially where the slide entrance is. People have to queue and you can't get by them.
This one is another thriller! You sit on a 4 person inflatable and are dropped into a big massive funnel overlooked by the Siam dragon! You have to hold on tight as you splash your way from side to side before emerging at the bottom.
Located at the far left of the park, Kinnaree is a four person slide – although you can go down in pairs if preferred.
Ride solo or in a two seater, these slides follow the parks twisty terrain. It's one of the milder rides of the park – ideal if you want a bit of a thrill without getting terribly wet.
Another four person slide, where you slip into an enclosed bowl with disco lighting…. or a laser light show.
River rapids ride for four people and is a mild thrill ride. Not as slow as the Mai Thai River but not as fast as the Singha.
Twin slides which shoots you into a bowl. In the middle you're sucked into a shoot before crashing into the water at the bottom.

Beach and Wave Palace
There's a manmade beach at Siam Park which hosts a wave pool – the biggest in the world. The sand has been imported and is a lovely yellow colour. At the Wave Palace you can join in watersports and there's even a surf school there. We didn't go to the beach at all other than to get food.

Fast Pass
For $15 each you can buy a fast pass for the slides. You can buy one for the morning (10am – 2pm) or one for the afternoon (2pm onwards). Each Fast Pass gives you access to each slide once, and the lifeguards will mark off your pass when you use it. On some slides you can use it twice or if you're lucky enough to have a lifeguard not mark it, use it as much as possible! I would highly recommend buying one as it saves so much time – we queued for 40minutes to get on Singha (a 40 second ride). Definitely worth the money.

Water Slides and Kiddie Parks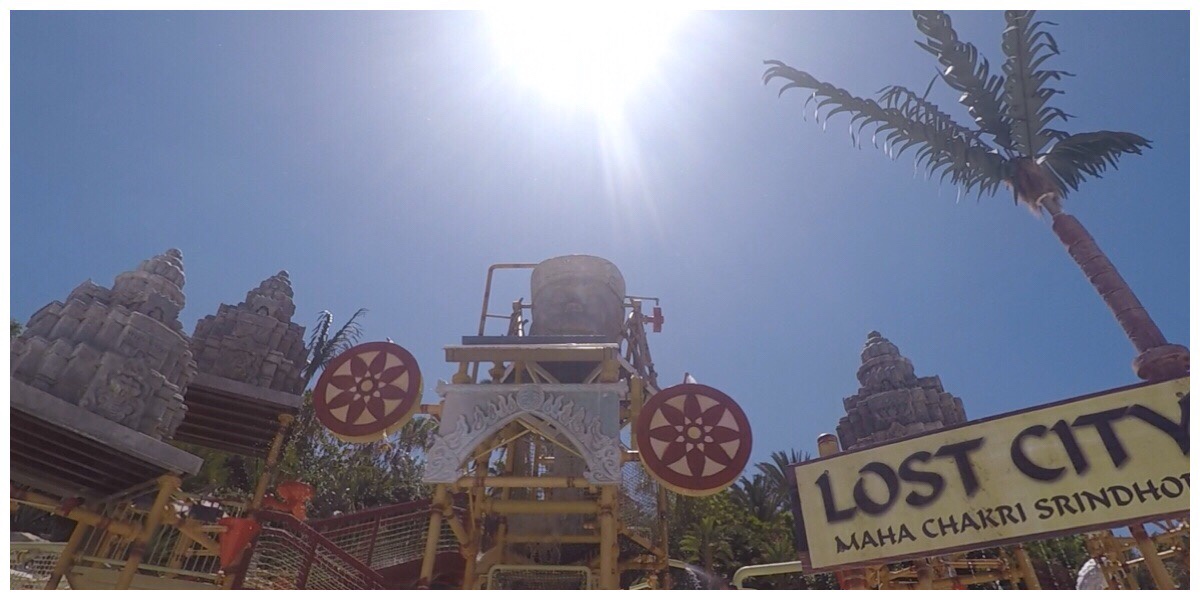 In addition to the waterslides and beach area (and Wave Park) there are two play areas for the kids. The kids spent all of their time at The Lost City which is a massive kids play area. Adjacent to The Lost City is a smaller pool with a mini slide for the little ones. My littlest loved this area… the chaos of The Lost City was a bit much for her.
The other kiddie park is Sawsadee and is aimed at older kids. We didn't visit this area other than to have a peek.

Bwyd
You won't be allowed to take food into Siam Park with you as they do a bag search. However, you can hide food in towels as the bag search isn't terribly thorough. On site there's two canteen buffet areas – the main one being at the beach. In addition, there's a Thai Lounge which serves cocktails and snacks. There's plenty of food but there's also large queues for expensive food.
Before I leave, here's a little video of our time at the park.
Have you ever been to Siam Park? Are you a fan of waterparks?