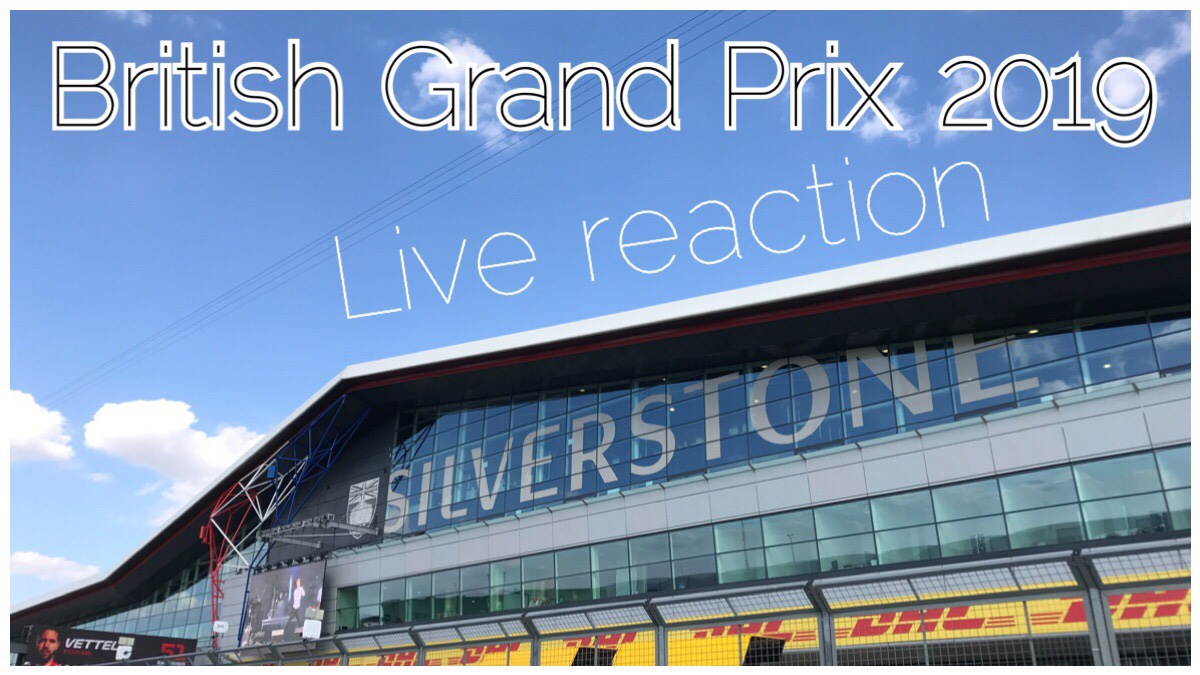 It's time for the 70th anniversary of the British GP! I can't believe it's been a whole year since we were there last! Official statistics say that 351,000 people attended the race weekend. That's amazing! It's a highlight of the calendar for sure. So much history at Silverstone.
Qualifying
Didn't watch qualifying but having looked at the starting positions, predictions are as follows:
Winner: Hamilton
2nd place: Vettel *
3rd: Bottas
* I wish I could say Leclerc but my gut tells me he won't manage it.
Last minute issue with end plate for Verstappen's Red Bull resulting in a change of back wing on the grid. Both Red Bull's are the same so change of end plate for both.
Live Reactions
HAMILTON WINS THE RACE!!!
Final lap – no action but Lewis is on for his 6th British GP win! Looking good for all 3 Brits actually – Hamilton 1st/Norris 12th/Russell 14th
Lap 49 – Sainz/Ricciardo battle still ongoing
Lap 48 – fastest lap of the race to Bottas. And a new lap record!
Lap 45 – pitstop for Bottas.
Lap 43 – 10s penalty for Vettel. Considering he's in last place, it won't make much difference anyway. Only 9 laps to go!
Lap 42 – in other news, there's a battle for 6th going on between Sainz's McLaren (woop woop!) and Ricciardo's Renault. I'm just so pleased that a McLaren is running up in the points. I'm hoping this signals the resurgance of the McLaren! Will Alonso make a comeback?
Lap 39/40 – Vettel pits for a new front wing and is plumb last.
Lap 37 – Verstappen trying to do the same move on Vettel. Doesn't manage it! Oh hang on…. he does it later on in the lap. OH NO THEY CLASH!!! Vettel runs into the back of Verstappen and both end up in the gravel. Both cars manage to rejoin the race.
Lap 36 – Uh oh! Team Radio from Verstappen says he heard something odd! Oh dear! Woop woop Leclerc passes Gasly and up into 5th!
Lap 30 – Oh ho! Lando Norris being brave on team radio and said that he's been screwed over by the strategy!
Lap 29 – Leclerc has DRS and thinking that he can take Gasly. But hang on! When did Gasly and Verstappen switch?
Lap 28 – it's settled down a bit and Lewis Hamilton pumps in the fastest lap.
Lap 24 – safety car in and the restart is an epic battle!! Leclerc and Verstappen contact but they keep it relatively clean.
Lap 22 – Oh what?! Ferrari has pitted. WHY!?! Honestly, I'm sure that the Ferrari strategist are being given a bung by Verstappen or something!
Lap 21 – Hamilton pits under safety car and it's looking good for a win for him now! Vettel and Verstappen also thinking the same and pit. Leclerc stays out…. it's looking like, the Ferrari strategist have effed it up for Leclerc again!
Lap 20 – Giovinazzi drops his car into the gravel trap. Safety car deployed! Ooooooooo exciting!!!!
Lap 18/19 – BAttle between Leclerc and Verstappen still ongoing! Oh my! How close was that pass from Verstappen there? REally late defensive move from Leclerc.
Lap 17 – Race leader pits! Quick pit stop for Mercedes.
Lap 14 – all action in the pit stops! Both Leclerc and Verstappen pit at the same time. Who will win in this pit battle? Ohhh SO CLOSE! Both cars leave the pit at the same time. Leclerc had to yield to Verstappen's Red Bull on the pit exit. Verstappen runs wide and Leclerc passes and has the advantage of the DRS as he was behind Verstappen at the detection point. Someone's going to get hurt!!! So close! Ahhhh Lecerc manages it! Phew!
Lap 12 – after passing Vettel, Gasly pits for new tyres. He's going for the undercut. Looking back at my predictions… maybe Vettel in 2nd is an overreach? But it's a long race so we'll wait and see.
Lap 9/10/11 – battle heating up between Leclerc and Verstappen. The footage from Verstappen's front wing is amazing! Verstappen is under pressure from Vettel's Ferrari now. And Vettel under pressure from Gasly's Red Bull!
Looks like things have calmed down a bit now. And as I say that Magnussen's Haas has retired.
Ohhhh!!! Hamilton Bottas battle is on! Lap 4 saw them change positions… but Bottas re takes the lead. It's close… I need tea!
Contact between the Haas cars apparently. Grosjean has had to pit. Magnussen now running last place.
Bottas running wide on lap 2…. leaving things open for Hamilton. It's SO CLOSE!
Ohhhh! Justin Whiting gets to start the race! LIGHTS OUT AND AWAY WE GO! No first corner incidents on lap 1!
Results
1st – Lewis Hamilton
2nd – Valtteri Bottas
3rd – Charles Leclerc
Noteable mentions:  Norris 12th / Russell 14th
Are you watching the British Grand Prix?